The conference PUBLIC CALLING
November 1 2016
In an era of austerity politics, securitized spaces, extrastate dominions, and distributed online networks, the notion of the public is increasingly in question if not crisis. For the conference Public Calling, both speakers and audience will find themselves together on stage, examining contemporary intersections of space and speech in order to test how the public can still be enacted today.
Free and open to all.
Tuesday 1st and Wednesday 2nd November, 2016. 10.00–16.00
Download the full conference programme here.
Limited seating.
Registration: publiccalling@frittord.no
---
---
Public Calling examines the increasingly unsettled and contentious status of public space and freedom of speech in a world defined by the responses to 9/11 and July 22, 2011 in Norway, and the growing list of comparable events elsewhere in the world.
Coming together on the main stage of the National Theatre in Oslo, presenters, discussants, and listeners will consider how contemporary systems of mass surveillance, the securitizing of civic space, crackdowns on dissent, and surging ultra nationalisms threaten public freedoms and the rights of citizenship in the name of national security. In contrast, participants will consider how social movements and cultural actors offer examples of how public space and free speech can be reclaimed, enacted, and invented, circumventing restrictions and reconfiguring spaces for public gathering and debate.
Public Calling comes at a time when Norway is undergoing a historical shift. On the one hand, there are faltering commitments to the country's once institutionalized systems of transparency, freedom of expression, and egalitarianism. On the other hand, discrimination is growing and austerity measures, generally associated with other geographic contexts, are being enacted.
The National Theatre was inaugurated in 1899 with Henrik Ibsen's, An Enemy of the People, in which a truth-telling whistleblower is increasingly isolated and disempowered by the establishment and his community. Taking this cue, all participants in the conference come together on the main stage–surrounded by vacant seats where silent onlookers would otherwise be–to perform the sharpened antagonisms that dominate contemporary stages for space and speech.

---
PROGRAMME




DAY

1: Tuesday, 1 November 2016
10:00-16:00
10:00-10:15
Doors open and registration
Prolog
ANDERS EIEBAKKE (NO) – Artist and activist
Return To Home
10:15-12:00
First Act
THE STATE OF TERROR
Control and the Art of Resistance
Introduction
RADHA D'SOUZA (IN/UK) – Lawyer and activist
Keynote
NANCY HOLLANDER (US) – Criminal defense lawyer
9/11 – the Event that Changed our World
Keynote
JONAS STAAL (NL) – Artist and founder of New World Summit
Art Against the War on Terror
Conversation
JONAS STAAL and NANCY HOLLANDER with RADHA D'SOUZA
12:00-13:00
Lunch
13:00-14:40
Second Act
NO RIGHT TO ASSEMBLY
Introduction
SARAH LOOKOFSKY (DK/US) – Curator and art historian
with art project by MARTHA ROSLER (US) – Photographs of Protests
Keynote
NADINE EL-ENANY (UK) – Lecturer in Law at Birkbeck College, University of London, Co-director of the Centre for Research on Race and Law
"Innocence Charged with Guilt": The Criminalisation of Protest in Britain from Peterloo to Millbank
Presentation
JOANNA WARSZA (PL/DE) – Curator and writer
I Can't Work Like This: On Protests within and outside of Art
Presentation
PINAR ÖĞRENCI (TR) – Artist and writer
Becoming Witness and Suspect in Times of War
Presentation
LISA ROBINSON (UK) – Activist and co-creator of Black Lives Matter UK: Nottingham Activist Group
#Shutdown: Black Lives Matter-UK Actions and Reactions
Conversation
NADINE EL-ENANY, JOANNA WARSZA, PINAR ÔGRENCI and LISA ROBINSON with SARAH LOOKOFSKY
14:40-15:00
Coffee
15:00-15:30
TRUTH AS THEATRE, THEATRE AS TRUTH
Political Bullshit, Artistic Activism, and the Dilemmas of Creatively Engaging in Formal Political Spaces, in Five Acts
SILAS HARREBYE (DK) – Author of Social Change and Creative Activism in the 21st Century – The Mirror Effect
STEPHEN DUNCOMBE (US) – Political activist and co-director of the Center for Artistic Activism
15:30-16:00
Discussion and closing words
RADHA D'SOUZA

---
DAY

2: Wednesday, 2 November 2016
10:00-16:30
10:00-10:15
Doors open and registration
10:15-12:00
Third Act
MARKS OF TERROR AND THE AURA OF LOSS
Introduction
RADHA D'SOUZA
Keynote
MINDY FULLILOVE (US) – Urban psychiatrist and Professor of Clinical Psychiatry and Public Health at Columbia University
Folding a Thousand Paper Cranes
Presentation
MARIANNE HEIER (NO) – Artist
Practical Transparency
Presentation
AHMAD GHOSSEIN (LB) – Artist and filmmaker
Relocating the Past
Presentation
KJETIL RØED (NO) – Art critic and writer
Art, Emotions and Trauma
Conversation
ARNE JOHAN VETLESEN (NO) – Professor of Philosophy at the University of Oslo, VEGARD GRØSLIE WENNESLAND (NO) – Politician representing the Labour Party, MARIANNE HEIER, AHMAD GHOSSEIN and KJETIL RØED with MINDY FULLILOVE
12:00-13:00
Lunch
13:00-14:40
Fourth Act
THE POST-TRUTH CONDITION
Mediascapes, Parafictions and Self-Censorship
PIA MARIA ROLL (NO) – Actor, director, dramaturg and screenwriter &
MARIUS VON DER FEHR (NO) – Political activist, artist and writer
National Apology
Introduction
RADHA D'SOUZA
Presentation
GEORGE GITTOES (AU) – Artist, activist and documentary filmmaker
Terror Vision
Presentation
ANDERS EIEBAKKE
Drones, Drawing and Politics: Poetry and Revolution
Moderation
RADHA D'SOUZA
14:40-15:00
Coffee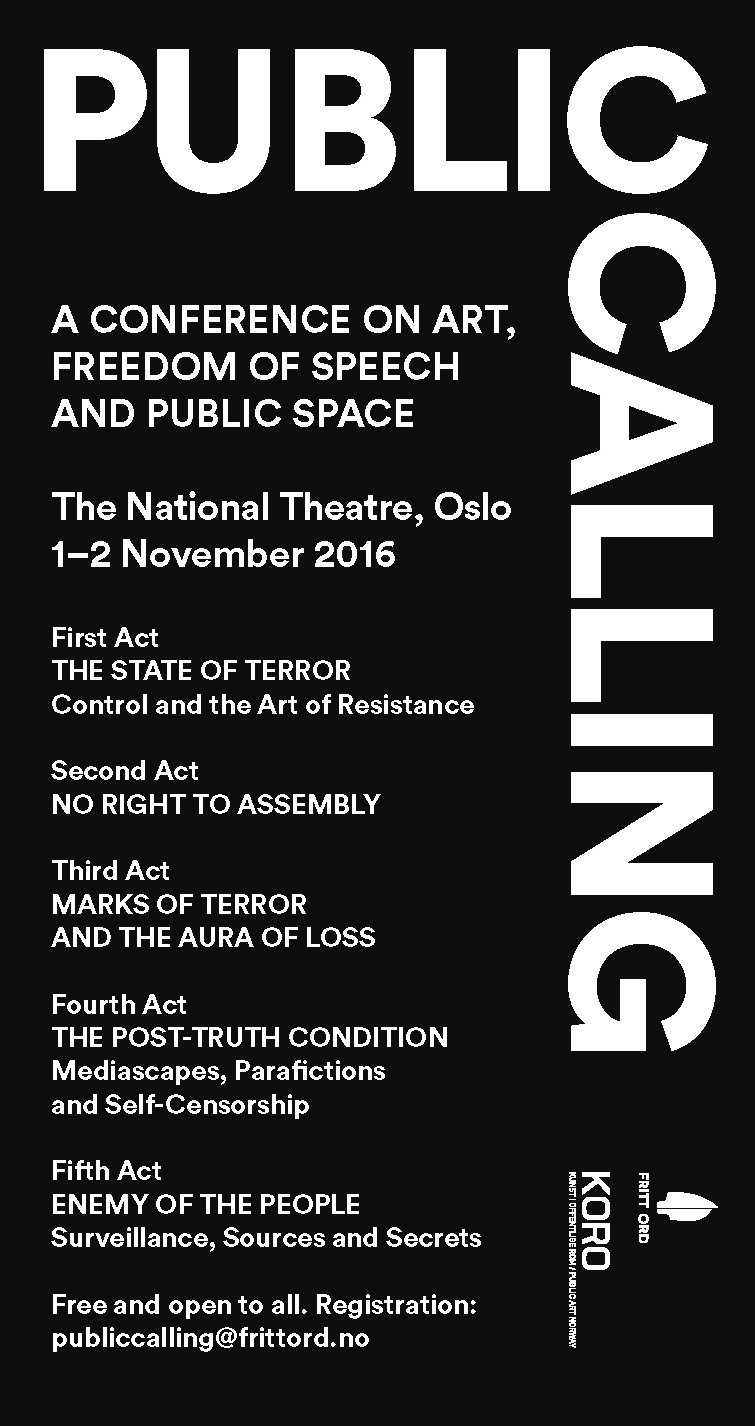 15:00-16:30
Fifth Act
ENEMY OF THE PEOPLE
Surveillance, Sources and Secrets
Keynote
JESSELYN RADACK (US) – National security and human rights attorney, head of the Whistleblower and Source Protection Program (WHISPeR)
The War on Information
Presentation
ULRIK IMTIAZ ROLFSEN (NO) – Film director, producer and screenwriter
Seized and Confused
Presentation
TORSTEIN GRUDE (NO) – Film writer, director, cinematographer and producer
The Magnitsky Act – Behind the Scenes and Magnitsky. Act II
Presentation
ERIK PAUSER (SE) – Director, producer and visual artist
The Borneo Case
Presentation
TONJE HESSEN SCHEI (NO) – Documentary filmmaker and producer
The Whistleblowers of the CIA Drone War
Conversation
JESSELYN RADACK, ULRIK IMTIAZ ROLFSEN, TORSTEIN GRUDE and ERIK PAUSER with TONJE HESSEN SCHEI
Epilogue
RADHA D'SOUZA
Program committee:
Bente Roalsvig, Bo Krister Wallstrøm, Kristine Jærn Pilgaard and Sarah Lookofsky.