Workshop: New facets of gaming
April 7 2016
In connection with the project "Digital Life", Fritt Ord invites gaming enthusiasts and gaming critics to submit texts about new facets of gaming. How should one write about computer games? Why are computer games important?" What deserves emphasis? How we can take this new medium seriously and meet it with an independent, critical and possibly personal tone?
We invite the public to a workshop for you who are thinking about submitting a text, but still have some questions. What kinds of texts are relevant? Which topics would be interesting to address?
Journalist and gaming enthusiast Martin Bergesen will chair the workshop that will be held at the Norwegian Museum of Science and Technology on Thursday, 7 April, from 5 to 7 p.m. Register by sending an email to registering@frittord.no or an SMS to +47 452 07667. There are 10-15 places in the workshop, and participation is free of charge.
Whether you have an idea, a half-written text or a completed draft, you will get relevant, constructive suggestions. We offer feedback, supervision and responses to your ideas and ways of expressing yourself, as well as the opportunity to discuss them with others who are also in the process of writing. Examples of good gaming texts will be reviewed and critiqued.
After the workshop, the Norwegian Museum of Science and Technology invites participants to a retro gaming party in conjunction with the major gaming exhibit Game On 2.0. There will be talks with John Romero, one of the developers of DOOM, a debate on Super Mario, a gaming quiz with Magnus & Jon Cato, an open zone for experimental information science, a DJ and a bar. Naturally, there will also be an opportunity to visit the exhibition. Read more about LATE on the Facebook event page. Ord. ticket NOK 150, student NOK 100.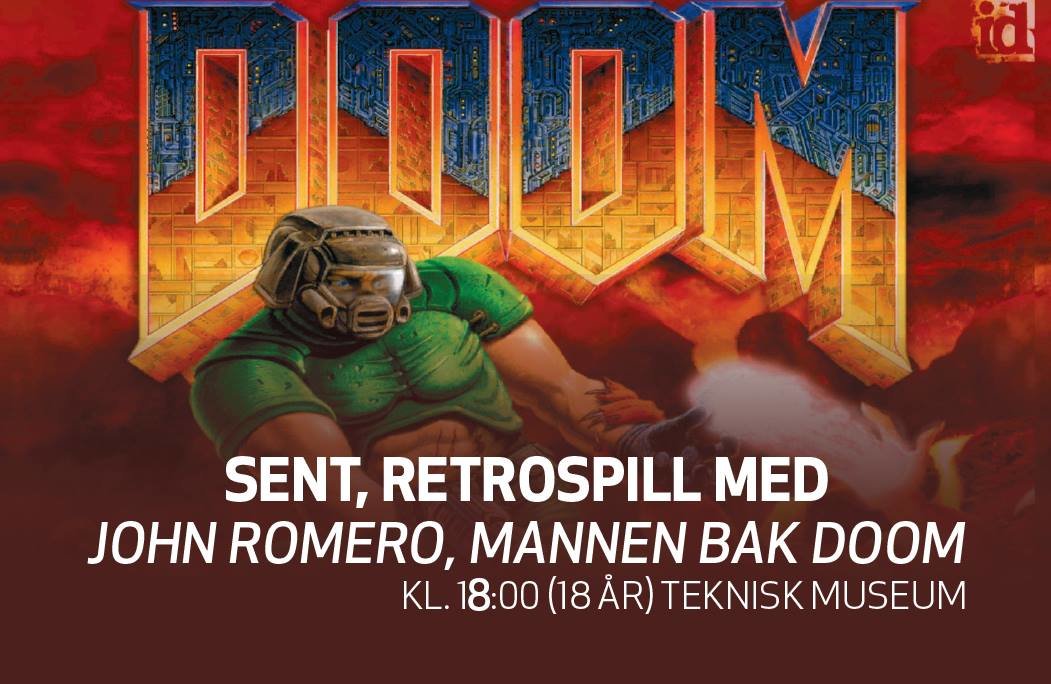 About the competition:
The campaign Digital life – new facets of gaming consists of discussion fora, events and an essay competition with a deadline on 15 April. The competition is open to everyone and aims to elicit a wide variety of texts, which, in one way or another, are related to computer games, preferably based on one's own experiences.
Participants can choose any genre, from personal essays and analyses, to pure fiction. Write about how the games have affected your life, or write a travelogue from a gaming world you have visited. Tell about the friends you have injured in shooting games or about the sweetheart you met in an online role-playing game. Alternatively, write about why computer games are important to culture and society. Or about what themes are missing from the gaming debate. About the game that made you shed a tear. Or make up something completely different.
The text should be to up to 30 000 characters, preferably in chronicle format (roughly 6 500 characters). The contributions should be in Norwegian, but we will also accept entries in Danish or Swedish.
The 12 best texts will be published in a digital anthology in the spring of 2016. The best text will win NOK 25 000, while the other texts selected will win NOK 5 000 each.
They will be selected by an editorial board consisting of Maren Agdestein, former editor of the blog spillpikene.no, Mathias Fischer, commentator in the newspaper Bergens Tidene, Jarle Hrafn Grindhaug, journalist at pressfire.no and Kristine Jørgensen, gaming researcher at the University of Bergen.
Read more about the competition on digitaleliv.no.