Freedom of Expression and the War in Gaza
The Fritt Ord Foundation, Masahat for Arab Culture in Exile, and Vega Scene cordially invite the public to a conversation on Wednesday, 29 November 2023 from 6 – 8 p.m. at Vega Scene in Hausmanns gate 30, Oslo.
Amund Bakke Foss, chief advisor in the foreign news section at the newspaper VG, will moderate a conversation with Jumana Manna, an artist based in Berlin, Nadim Khoury, an associate professor at the Department of Law, Philosophy and International Studies, Inland Norway University of Applied Sciences, Sarah Lookofsky, artistic director at Kunstnernes Hus, Jon Martin Larsen, senior lecturer in journalism at Kristiania University College and commentator for the media website M24, and Nikolai Melamed Kleivan, reporting manager and journalist at the newspaper Morgenbladet.
Following Hamas' attack on 7 October 2023 and Israel's military invasion, we are witnessing in Gaza the bloodiest war in our time.
The war is having severe consequences for human rights and freedom of expression. The right to express oneself, to protest, show anger and frustration, take an anti-war stance, to distance oneself from the violence, and show solidarity with those who suffer, is leading to new confrontations, persecutions and bans.
Palestinians in Gaza, the occupied West Bank, Jerusalem and inside Israel are being persecuted and punished for their words by the Israeli authorities and their supporters. Jewish Israeli activists also face sanctions when they criticize Israel's warfare. The pursuit of free speech involves arrests, interrogations, and warnings. Social media, including past posts, are monitored for signs that people are supporting the Palestinian side. In recent weeks, many Palestinian citizens in Israel have been suspended from universities and fired from their jobs.
In Germany and France, pro-Palestinian demonstrations and shows of solidarity have been met with bans, arrests and violence. Accusations of anti-Semitism against Palestinian cultural workers, artists and academics have resulted in smear campaigns, the cancellation of exhibitions, and terminations of employment in several European cities. At the same time, there are reports of an increasing number of anti-Semitic incidents in Europe, the USA and Norway. The discursive climate of communication in the USA is also being strongly influenced by the war.
Reporting on the war in Gaza has proven to be challenging and dangerous due to the total lack of safe places to work. Roughly 40 journalists and media workers have been killed, and the lack of physical access to the Gaza Strip and the war zone creates fertile ground for propaganda from both parties. A large generation of young people is discovering the Israeli-Palestinian conflict for the first time through social media images and videos. When they turn their attention to the edited media, they find a dissonance between editor-led mainstream media and social media.
In this conversation, we will discuss the challenges facing mainstream media; what it is like to be an Arab, Muslim and Jew, living through this war; anti-Semitism; cancellations, censorship and self-censorship in institutions; as well the double standards reflected in foreign policy – in Norway and internationally.
The conversation will also feature certain individuals and organisations invited to give short interventions during the event, including Bergdis Joelsdottir, director of Policy at Amnesty International Norway, who is currently mapping the restrictions on freedom of expression in Europe as well as tech giants' restrictions in light of the war.
Followed by soup and open discussion until 9 p.m.
Register via Masahats webpage.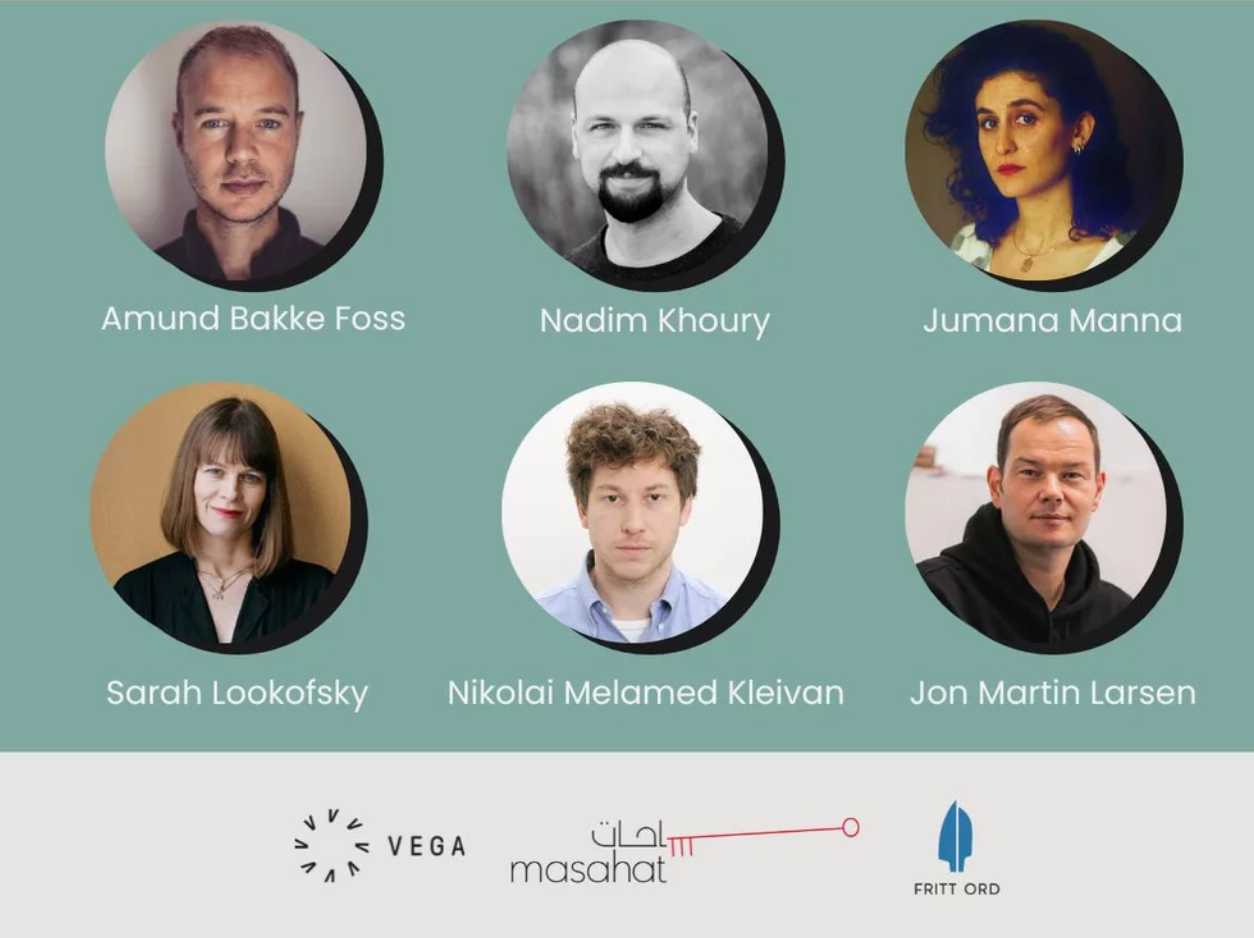 Speakers
Amund Bakke Foss
Amund Bakke Foss is chief advisor in the foreign news section at the Norwegian newspaper VG. As a journalist his focus is on conflict and human rights, and he was formerly a Middle East correspondent based in Beirut. Educated as a political scientist, he earned a master's degree in Peace and Conflict Studies.

Jumana Manna
Jumana Manna is a visual artist and filmmaker. Her work explores how power is articulated, focusing on the body, land and materiality in relation to colonial inheritances and the histories of places. Jumana was raised in Jerusalem, educated in Oslo and lives in Berlin.
Nadim Khoury
Nadim Khoury is an associate professor of International Studies at Inland Norway University of Applied Sciences, and he is affiliated with Oslo New University College. Before moving to Norway, he worked at Al-Quds University in the occupied Palestinian territories. Nadim's research focuses on transitional justice, nationalism, colonialism and collective memory.
Sarah Lookofsky
Sarah Lookofsky is a curator, writer and art historian who recently became artistic director of Kunstnernes Hus in Oslo. She came from the position as dean of the Academy of Fine Arts at the Oslo National Academy of the Arts (KHiO). Before moving to Norway in 2020, she was associate director of the Museum of Modern Art's International Programme. She was general advisor for the 9th Berlin Bienniale organised by the DIS collective, and from 2010 to 2014, she was director of Curatorial Studies at the Whitney Museum of American Art's Independent Study Programme.

Jon Martin Larsen
Jon Martin Larsen is a lecturer in Journalism at Kristiania University College and a regular commentator on Norway's largest media website, M24. He is a PhD fellow in Communication and Leadership at Kristiania University College, with emphasis on minority communication and dialogue, and he holds a master's degree in International Journalism, with emphasis on terror, migration and minorities. His background includes being director of media for the Norwegian Red Cross, a media delegate for the International Committee of the Red Cross in Israel and the Occupied Territories, and communications director for the Gender Equality and Anti-Discrimination Ombud.
Nikolai Melamed Kleivan
Nikolai Melamed Kleivan is a reporter and journalist for the newspaper Morgenbladet. He has had several long stays in Israel and the occupied Palestinian territories. He writes about Israeli politics, holocaust historiography and international conflict. He has also covered the war in Ukraine, making several trips to the afflicted areas.