Free Media Awards 2019 in Vilnius
The 2019 Free Media Awards were bestowed at the Free Media Awards conference in Vilnius, Lithuania, under the auspices of Fritt Ord and ZEIT-Stiftung, on Tuesday 19 November 2019.
The awards went to:
The regional online newspaper 7×7 in Northwest Russia for their unique teamwork and cooperation between journalists, bloggers and activists,
The Insider, for their fact checking and critical investigative journalism in Russia, made in collaboration with other international media outlets,
CivilNet from Armenia for the important role they played during the civil and political revolution,
The Azerbaijan investigative journalist Hafiz Babali for his efforts to show both Azerbaijanis and the international community alike the tremendous scope of the corruption that exists among the political and financial elite in the country,
And the magazine Novoye Vremya for their investigative stories on corruption and the abuse of power among politicians and other state government employees in Ukraine.
Read more about the laureates here.
Conference programme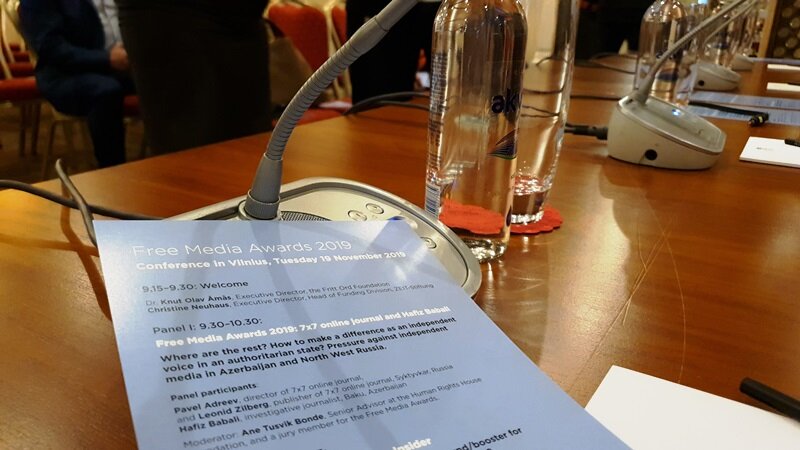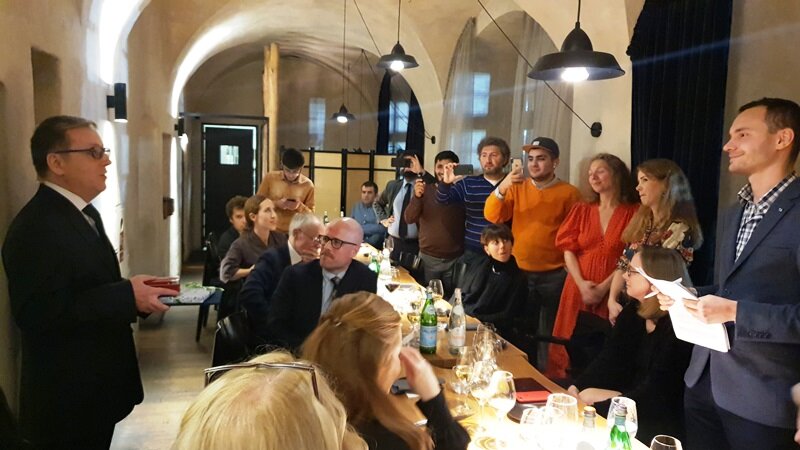 Tuesday 19 November
09.15 – 9.30: Welcome
Dr. Knut Olav Åmås, Executive Director, the Fritt Ord Foundation
Christine Neuhaus, Executive Director, Head of Funding Division, ZEIT-Stiftung
Panel I: 09.30 – 10.30: Free Media Awards 2019: 7×7 online journal and Hafiz Babali
Where are the rest? How to make a difference as an independent voice in an authoritarian state? Pressure against independent media in Azerbaijan and North West Russia
Panel participants:
Pavel Adreev, director of 7×7 online journal, and Leonid Zilberg, publisher of 7×7 online journal, Syktyvkar, Russia
Hafiz Babali, investigative journalist, Baku, Azerbaijan
Moderator: Ane Tusvik Bonde, Senior Advisor at the Human Rights House Foundation, and a jury member for the Free Media Awards
Panel II: 10.45 – 11.45: Free Media Awards 2019: The Insider
Global journalism collaborations: workaround/booster for investigative journalism in authoritarian regimes?
Panel participants:
Roman Dobrokhotov, editor-in-chief of The Insider, and Sofya Izmaylova, vice-editor-in-chief of The Insider, Moscow Russia
Elena Milashina, investigative journalist, and recipient of Free Media Awards 2016, Russia
Moderator: Alice Bota, Moscow correspondent for the weekly newspaper DIE ZEIT, and a jury member for the Free Media Awards
13.30 – 13.40: Video and humour in Azerbaijan
Mehman Huseynov, recipient of the Free Media Awards 2013
Introduced by Ane Tusvik Bonde
Panel III: 13.40 – 14.40: The Free Media Awards 2019: Novoye Vremya and CivilNet
Challenges to media in times of change – creating a viable business model in a thight media market and challenging a post-revolutionary government

Panel participants:
Vitaly Sych, chief editor of Novoye Vremya, Kyiv, Ukraine
Karen Harutyunyan, chief editor of CivilNet, and Marya Yeghiazaryan, reporter, CivilNet, Yerevan, Armenia
Moderator: Martin Paulsen, Eastern Europe expert with a PhD in Russian language from the University of Bergen, and a jury member for the Free Media Awards